Andy Akinwolere
Andy spent five fantastic years presenting Blue Peter, where he explored his love of sports and music. During his time on the porgramme, he bungee jumped from a helicopter, became a qualified sky diver, and set a new world record for the deepest open water swim - in spite of a phobia of deep water. He has since gone on to front several factual documentaries for the BBC, as well as working closely with several charities. Andy is also a member of BAFTA and presents their yearly Young Film Critic Awards.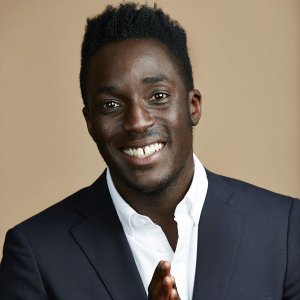 Question & Answer
What is your favourite children's book of all time?
J R R Tolkien's The Hobbit: it was the first book that tested my patience and stamina for reading. Its darkness captured me, and it's the first book that scared me a little.
What books do you remember enjoying as a child?
I grew up in Nigeria, and a lot of the Enid Blyton books came over, like the Famous Five. I'd always imagined I was part of that crew. I was also into graphic novels and comics like Asterix.
Who are your favourite children's authors or illustrators?
My breadth of reading really started properly when I came to the UK, and as cliched as it sounds, I was introduced to the wonderful world of Roald Dahl and Quentin Blake. The BFG especially is a favourite.
How does it feel to be a Best Book Awards judge?
It's a great honour to even be considered. I'm fascinated by the ever-changing world of children's books nowadays.