Illustrating The Snatchabook by illustrator Thomas Docherty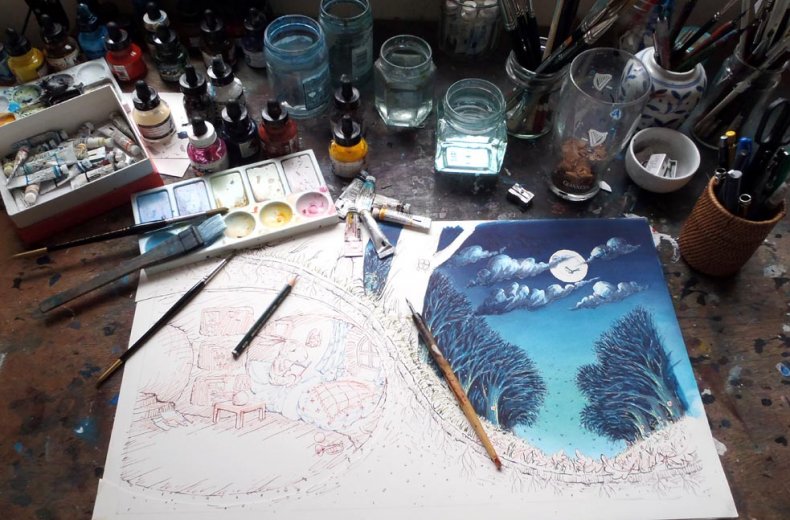 22nd April 2014 < Back
I grew up from the age of nine in a village, and there were some woods behind our house where my brothers and I used to spend a lot of time with our friends, climbing the trees and making dens. Doing the illustrations for The Snatchabook brought back lots of memories and I really enjoyed creating the woodland world of Burrow Down and all the characters that live there.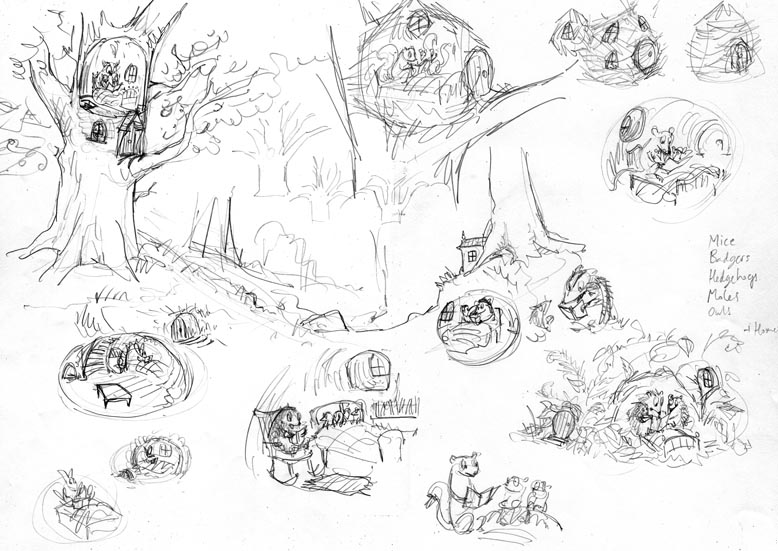 When you're creating the illustrations for a book, you can look for ideas in all sorts of places: other books, the internet, museums and galleries, films and TV. But probably the best source of inspiration is things that actually happen to you: things that you have done, places that you have been, people that you know, and stories that you have been told. It doesn't matter where you live and you don't have to travel far; just think of all the things that happen at school, with your family, in the park or near your house. I used to keep a sketch book diary to help me remember and it's great to look through it when I'm stuck for ideas.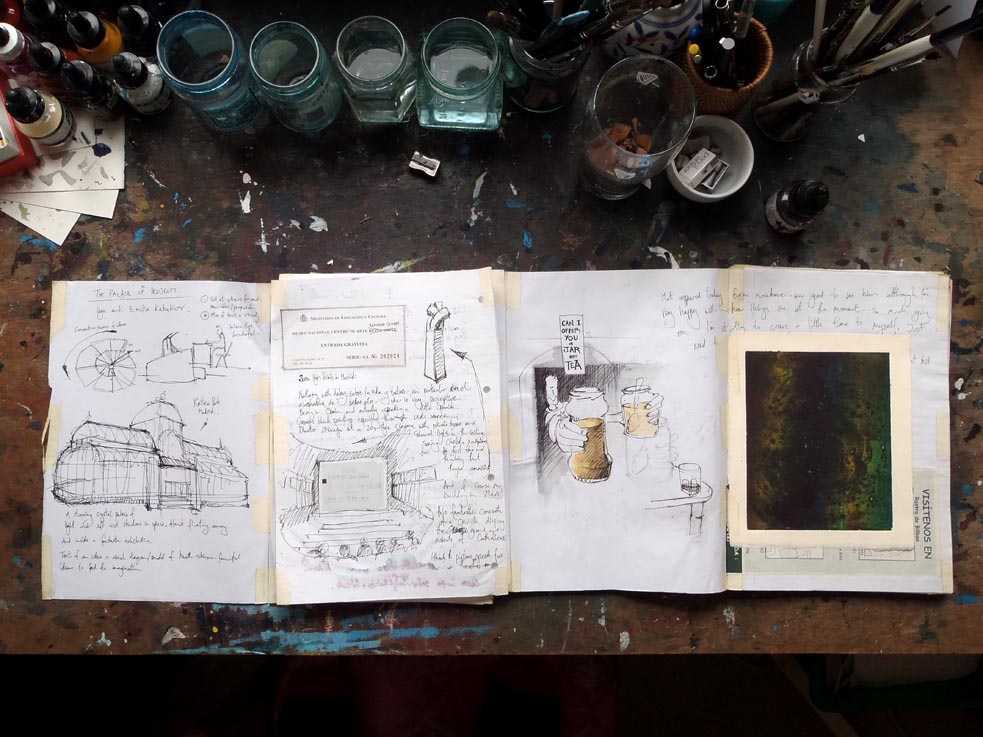 The most important part to any story is the characters, so that's where I started when Helen first showed me the text for The Snatchabook. The words told me that the Snatchabook was small and that it had wings. The rest, I had to make up myself, so I started to make a list in my head:
THE SNATCHABOOK:
Small (can sit on Eliza's knee)
Can fly (what sort of wings, a bat, a bird?)
Comes out at night (big eyes?)
Snatches books (claws / paws / tentacles?)
Eliza feels sorry for it (cute / furry / colour?)
And this is the very first drawing that I did. What would the Snatchabook look like if you designed your own?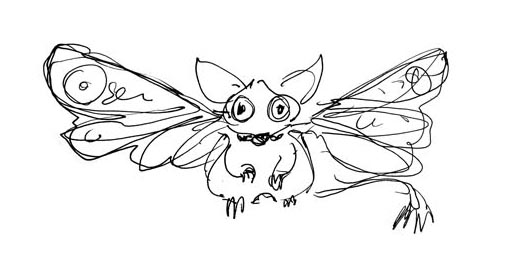 To help me, I looked at photos of small furry animals on the internet, like bush babies (eyes and ears), desert rats (tail), chinchillas, dragonflies and butterflies (wings). Then I went back to the text to see what sort of things the Snatchabook had to be able to do in the story, and I did more sketches: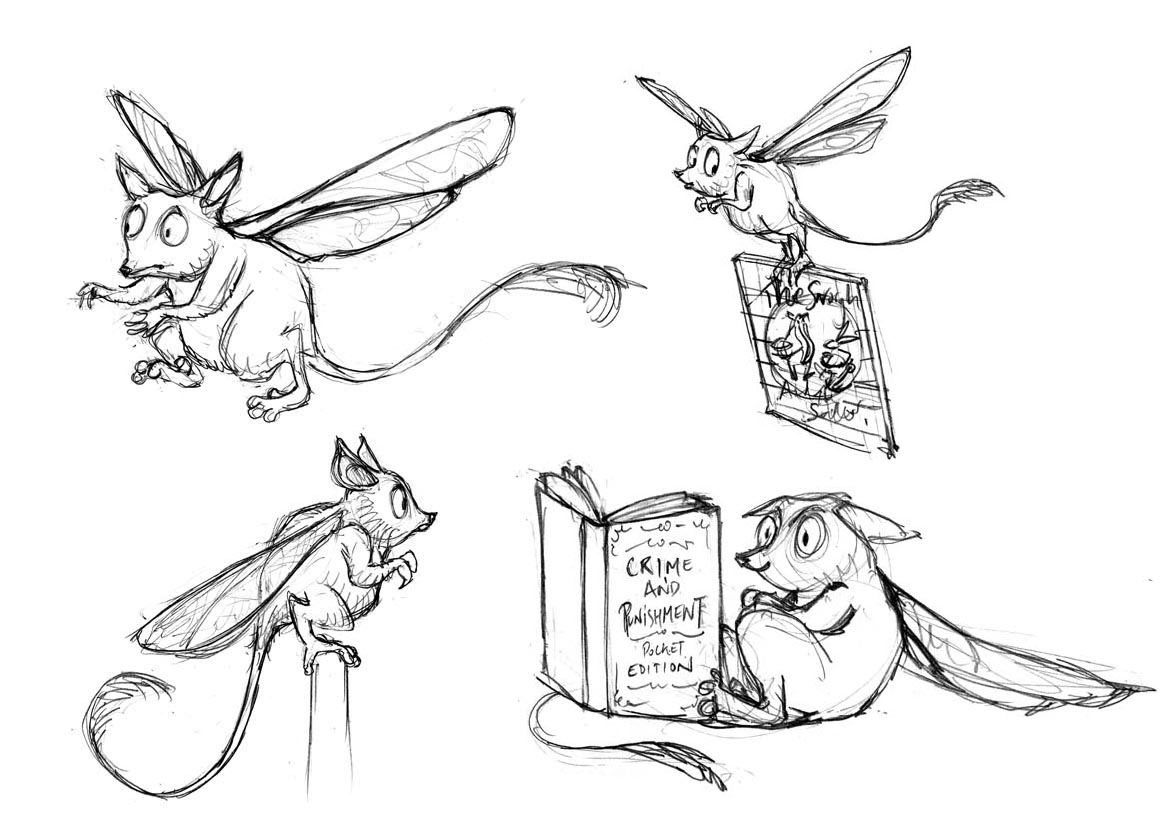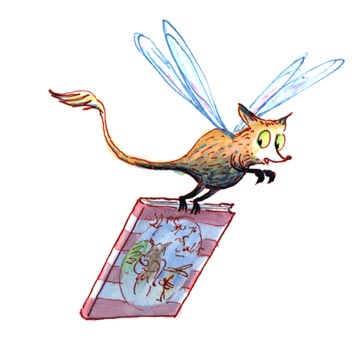 Eliza was more of a problem. At first Helen imagined that she might be human.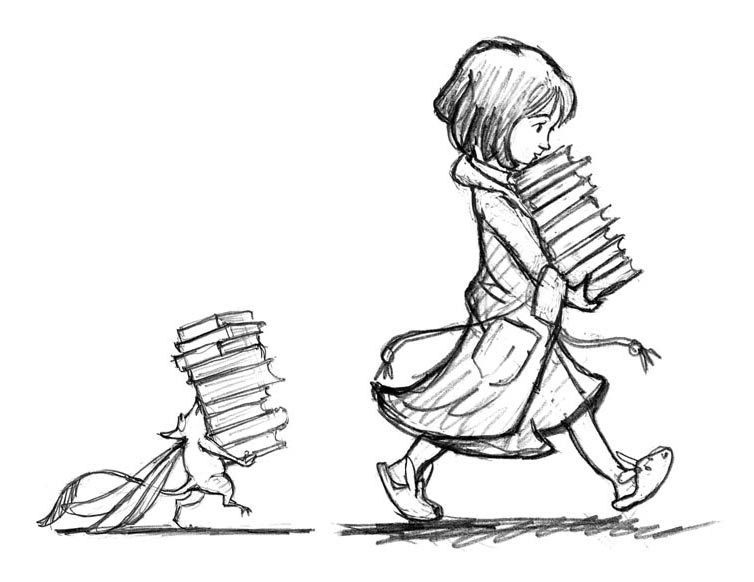 Then the publishers wanted her to be an animal, so she became a badger: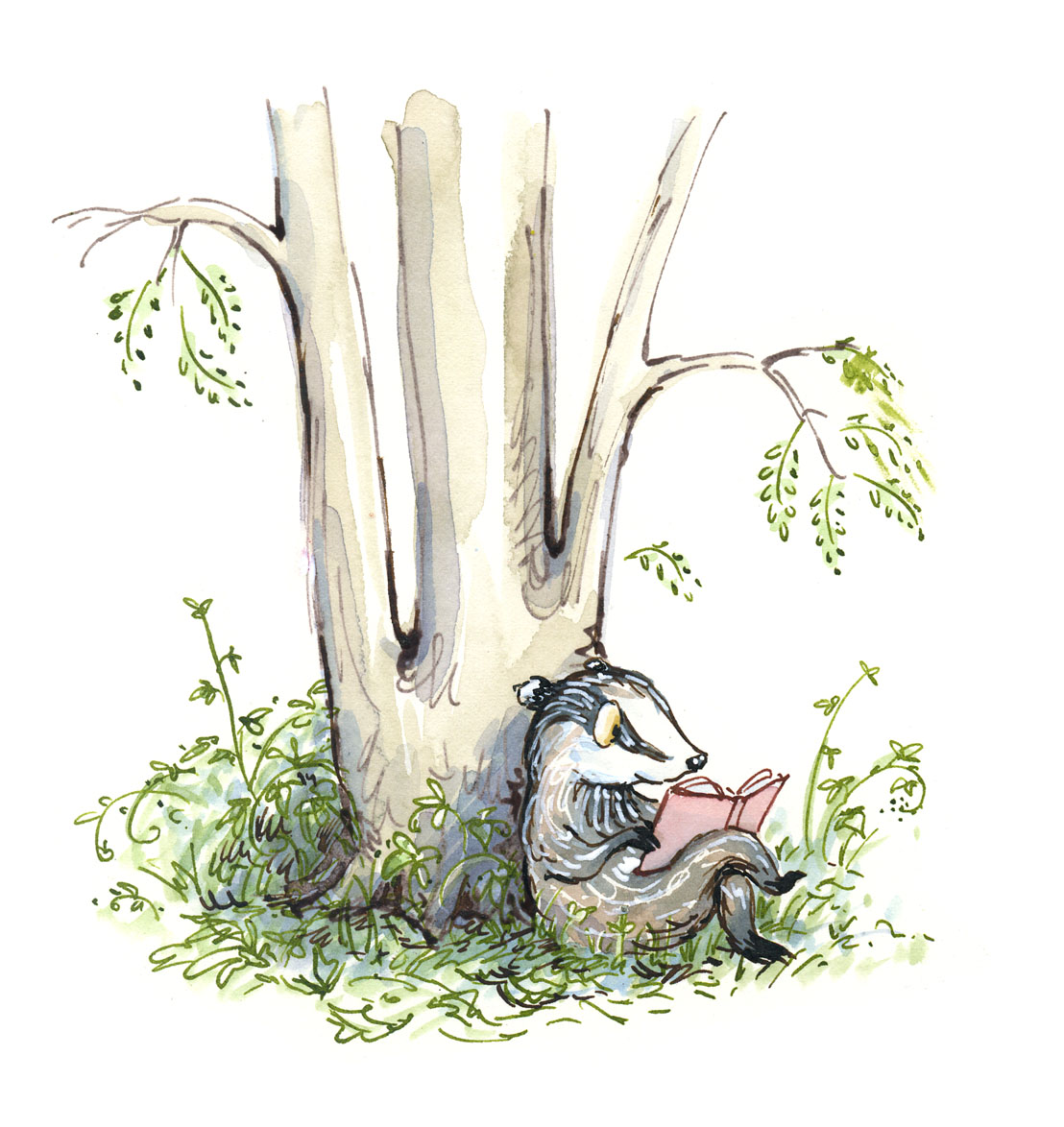 And finally a rabbit!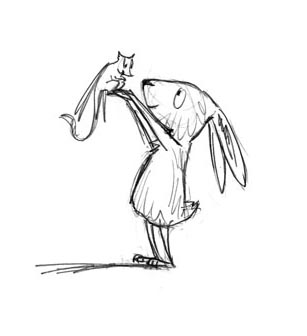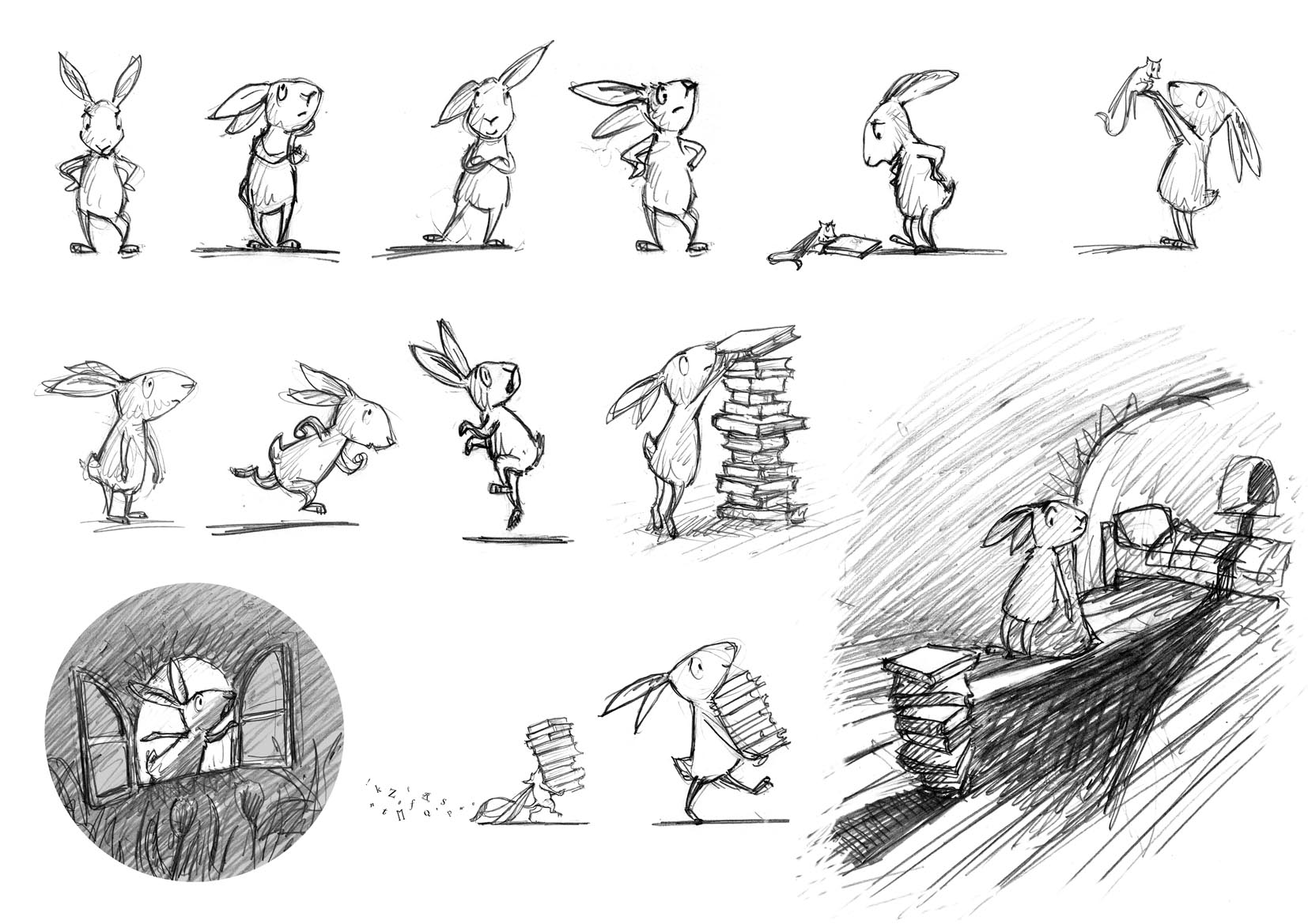 The other animals came next: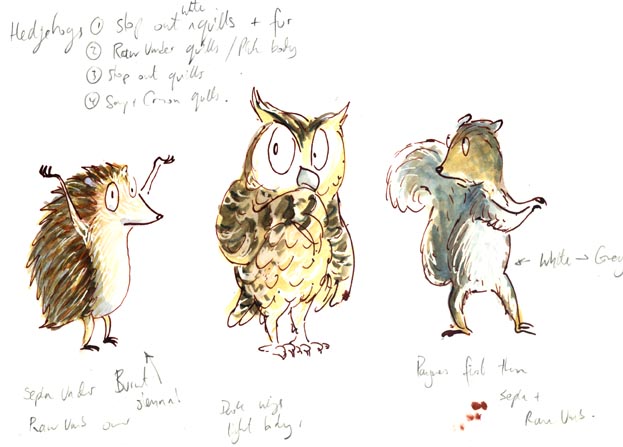 Then I started to think about Burrow Down. We were living in a city at the time but there was a sort of overgrown park with a river near our house, and I went there to draw the plants. and trees.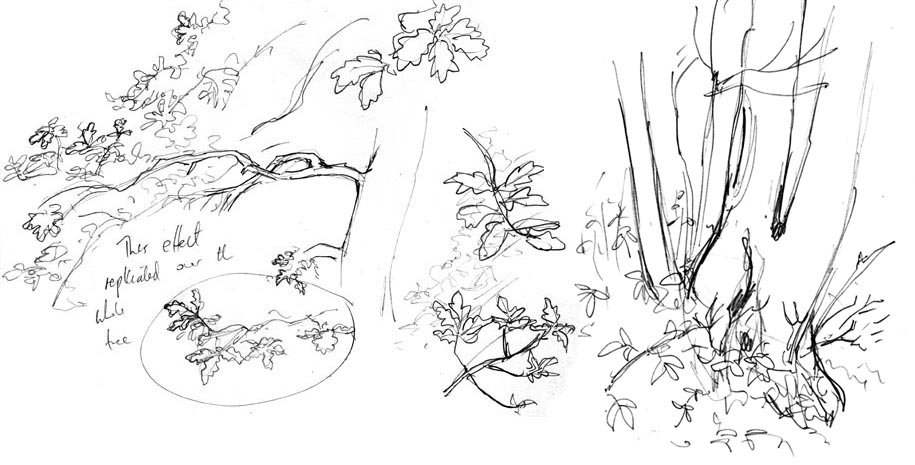 When I was happy with drawing the forest, I put in the burrows.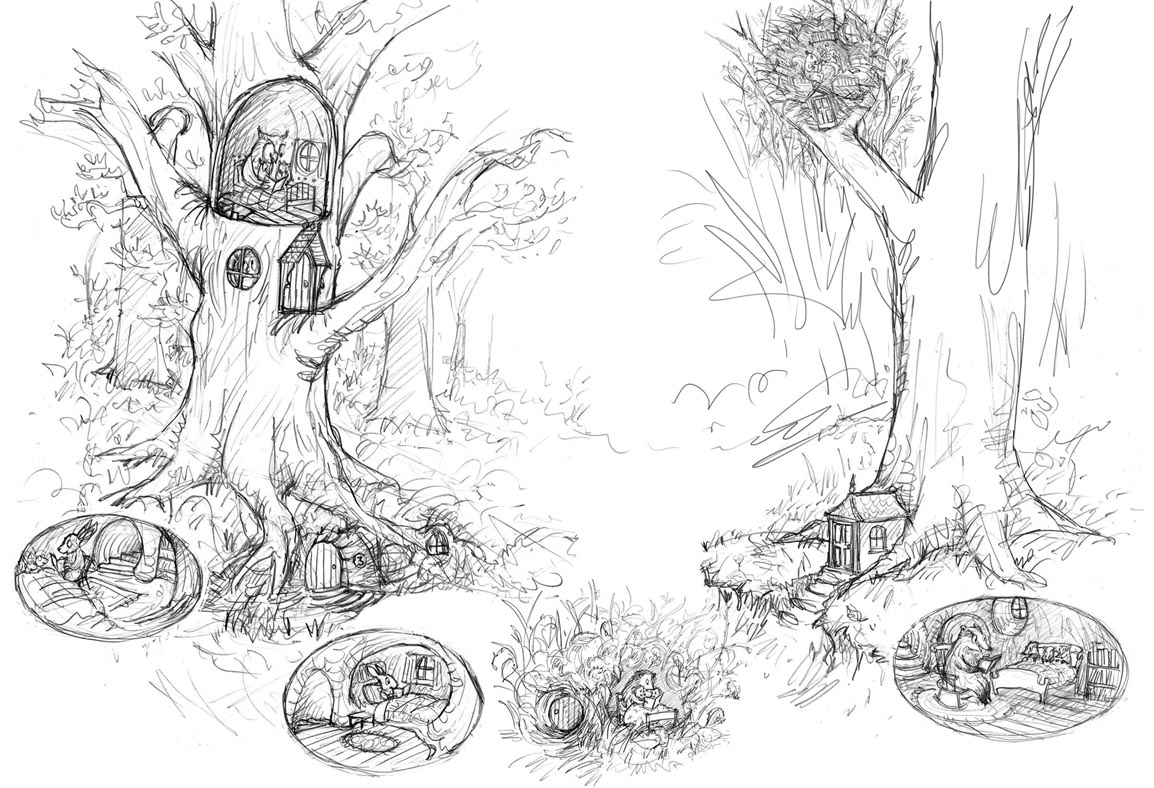 I paint all my pictures with watercolour paints and acrylic inks. First I draw out the picture in pencil and ink on thick paper and then I colour it in with watercolour. Here is my desk with some of the things I use: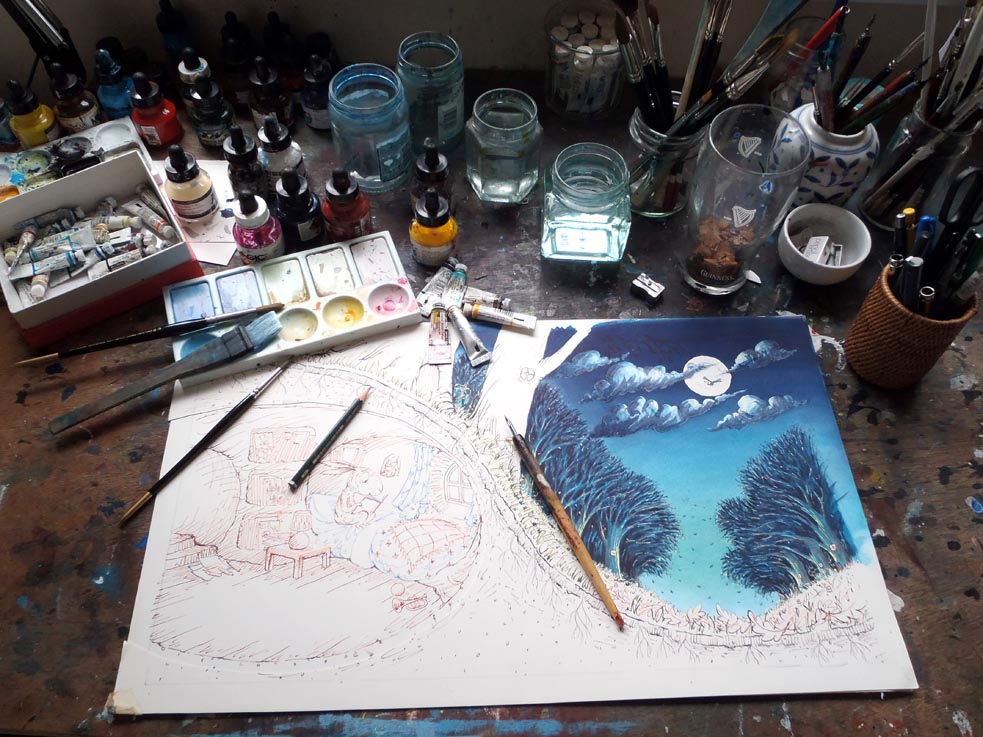 Before I paint the final pictures I do a lot of colour tests to try out different colours and get things like the light and shadows in the right place. Here are some practice trees and two colour tests of Eliza in her burrow. You will notice that I often write little notes to myself on these pictures to remind me of the colours I used or what order I painted them in.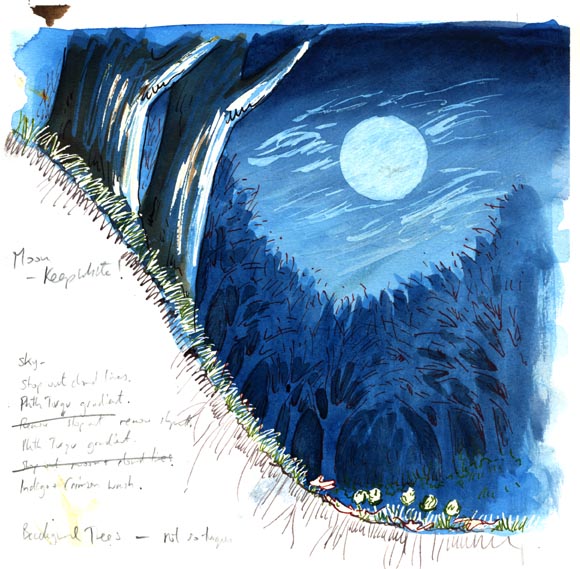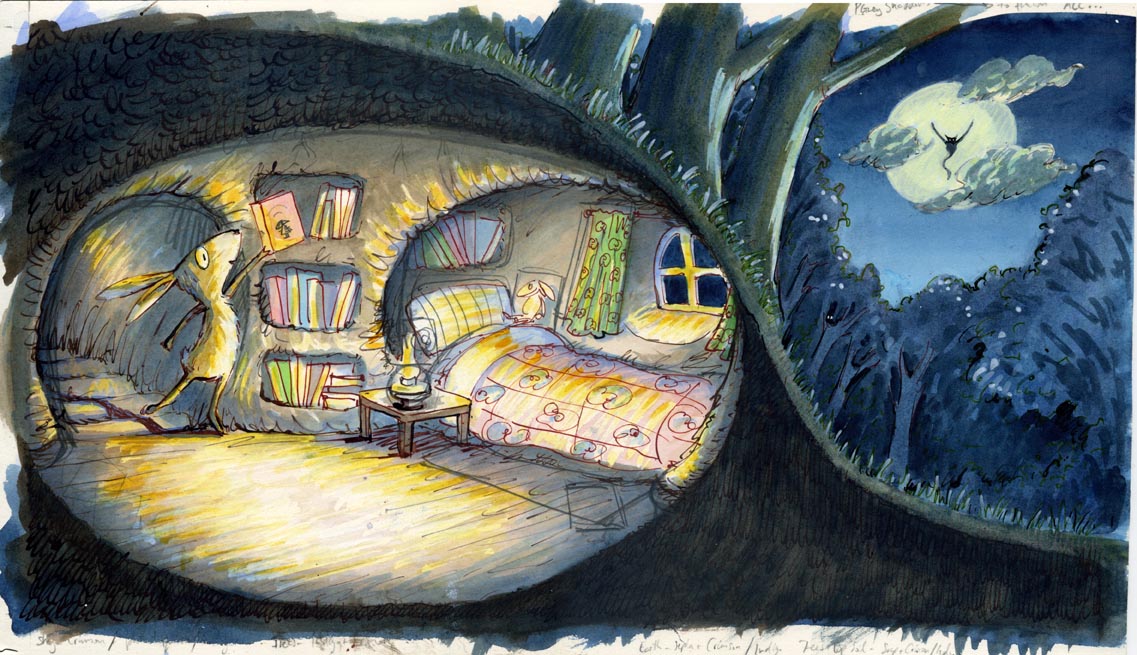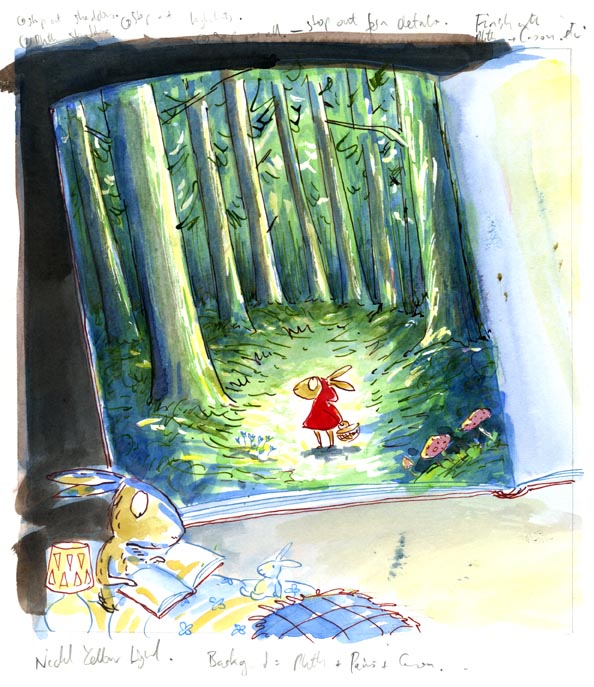 After that, all that is left to do is to paint the final illustrations and do the cover. It takes me about two to three days to draw out and paint each page. Sometimes a page will go wrong, or I won't be happy with it and I will have to start all over again. The whole book probably took six months to do!
Well, I hope you have enjoyed having a peek behind the scenes of illustrating The Snatchabook. It's a lot of work, I must have hundreds of pages of sketches and colour tests but I'm sure you will agree that it's worth it when you look at the final story.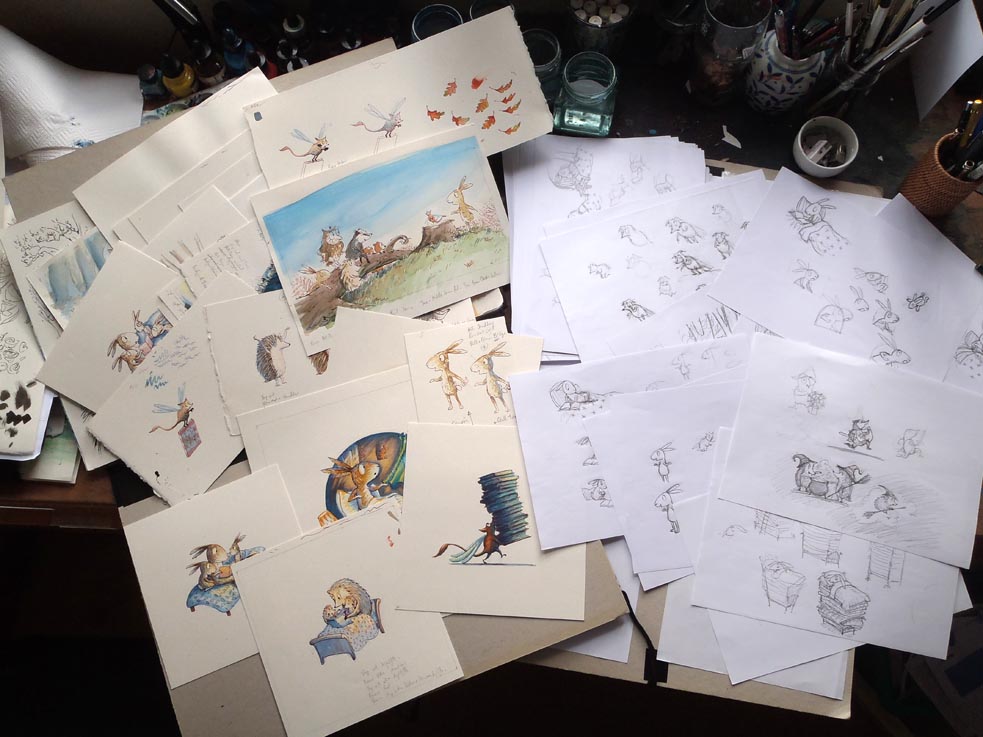 And if you like drawing and you think you would like to be an illustrator too, just remember that all you need to do is practise. When I was young, I was probably no better at drawing than you are now. I've just spent a long time practising.
So let me leave the last word to the Snatchabook…